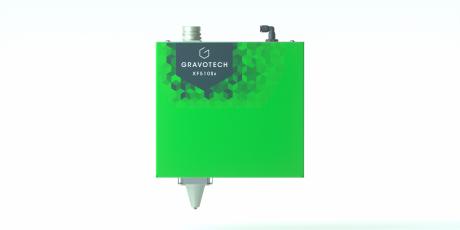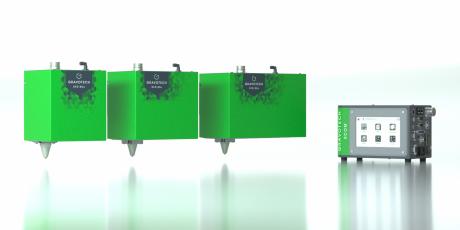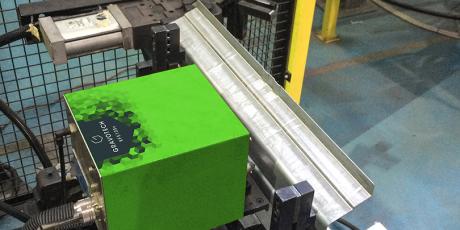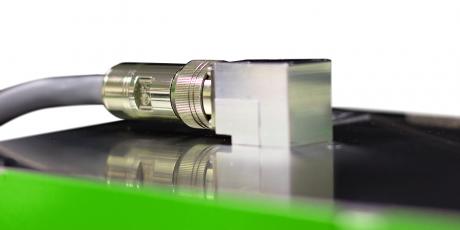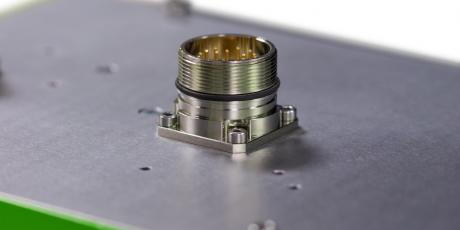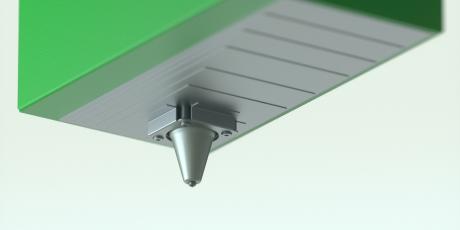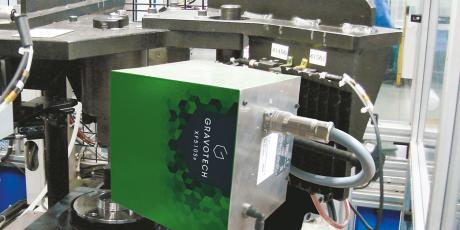 XF510r, scribing machine for direct part marking
SCRIBING MACHINE
This online marking system delivers direct part marking on your parts while keeping noise to a minimum. Quiet enough to meet the noise controls in the strictest standards, it is the industrial solution for marking metal sheets.
Silent direct part marking
Scribing machines makes sense on hollow metal parts (tubes and pipes) or formed plate (chassis and body parts) which will naturally resonate during mechanical marking. Scribing machines, by reducing the number of impacts, will allow a smooth and silent direct part marking with high contrast, making it easier to proofread. Thanks to the Datamatrix kit we offer you the possibility to switch to a dot peen marking machine when you need to mark a 2D code.
 
High marking quality
Our metal scribing machines are designed to combine depth with aesthetic results: speed, strength and position can be configured for perfect direct part marking consistency and legibility meaning a high possibility to survive at the painting process. This gives the highest quality characters with the existing fonts.
 
Robust & durable scribing machine
Composed of high rigidity guide rails and high-performance styluses: high amplitude, anti-burrs and a diamond tip. The robustness and precision of this industrial marking solution come from the quality of its construction, ensuring the user high performance, low maintenance, power and air consumption.
Technical Specifications
3 scribing machine models available (L x w x h)
Cr: 182 mm (7.2 in) x 167 mm (6.6 in) x 199.5 mm (7.9 in)
Sr: 222 mm (8.7 in) x 167 mm (6.6 in) x 199.5 mm (7.9 in)
Dr: 302 mm (11.9 in) x 167 mm (6.6 in) x 199.5 mm (7.9 in)

High-performance direct part marking styluses
Carbide stylus tip
Angle at 110° and more, depending on the application
High amplitude, anti-burrs, diamond tip
Usable fonts
Continuous line (and dot by dot)

Electric supply: 150 VA

Operating temperature: 5 – 45° C

Reliable and durable mechanics
High rigidity guide rails
Low power consumption

XCOM controller
with a color touchscreen and easily accessible connectors (RJ45 100Mbit, USB host, USB Device, Ethernet-based Fieldbuses, RS232, Dedicated I/O, Safety (Performance Level d), User I/O, Z-Axis.
 
General
Technology
Dot peen
Scribing
Ideal for:
Metal scribing
Direct part marking
Marking Capacity
Marking area max
Cr: 40 mm (1.6 in) x 50 mm (2 in)
Sr: 80mm (3.1 in) x 50 mm (2 in)
Dr: 160mm (6.3 in) x 50 mm (2 in)
Material hardness (HRC)
<62
| | XF510 Cr | XF510 Sr | XF510 Dr |
| --- | --- | --- | --- |
| Model | | | |
| Technology | | | |
| Dimensions (L x W x H) | 182 mm (7.165 in) x 167 mm (6.575 in) x 224 mm (8.819 in) | 222 mm x 167 mm (6.575 in) x 224 mm (8.819 in) | 302 mm (8.74 in) x 167 mm (6.575 in) x 224 mm (8.819 in) |
| Marking area | 40 mm (1.575 in) x 50 mm (1.968 in) | 80 mm (3.15 in) x 50 mm (1.968 in) | 160 mm (6.3 in) x 50 mm (1.968 in) |
| Machine weight | | | |
| Communication Interfaces | RJ45, USB(x2), RS232, 8I/4O, Process IO | RJ45, USB(x2), RS232, 8I/4O, Process IO | RJ45, USB(x2), RS232, 8I/4O, Process IO |
| Fieldbus (option) | | | |
| Embedded fonts type | | | |
| Display | | | |
| Operating Temperature | | | |
| Available languages | | | |
| 2D Codes | | | |
| Power consumption rate | | | |
| Input voltage | | | |
| Compressed air supply | | | |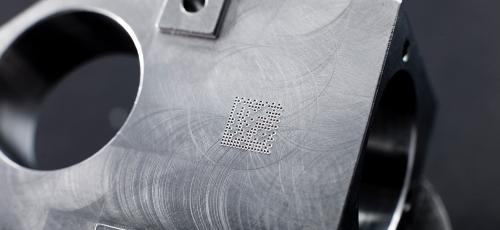 The XF510r scribing machines range provides an unmatched marking speed, quality and reliability both for low and high volume production. With the optional Datamatrix kit, code and characters are perfectly marked in a single operation and in record time.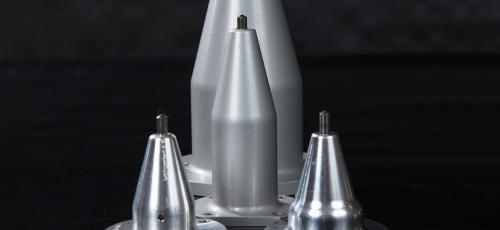 A range of styluses adapted to each direct part marking application.
Different piston sizes to adapt to applications from thin nameplates to deep chassis marking.
Available with the XF510r metal scribing machine in carbide and diamond points to adapt to different surfaces.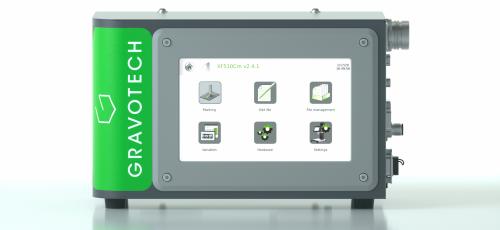 XCOM controller pilots the entire industrial marking solutions range and considerably facilitate the use and management of your markings and improves the quality of all your markings.
XCOM control unit is the most communicative on the market: RS232 ports, USB, Ethernet TCP/IP, Profinet, Ethernet IP, EtherCAT, 8 input/4 output for easy integration into all production lines.
This marking machine can handle 15+ materials
SCRIBING
PLASTICS
ABS​​
PA
PC
PE, BET
PMMA, Acrylic
POM - PBT
PP
METAL
Aluminum
Anodized Aluminum​​
Brass​​
Carbide
Coated metal
Copper
Gold, silver, nickel, platinum
Stainless steel​​
Steel
Titanium
= Engraving / Deep marking
XF510r: Technifor innovative scribing machine
The XF510r comes from an old line of scribing machines.

Technifor, our historical brand dedicated to industrial markets, developed the dot peen marking technology in 1985 but also dramatically improved the scribing technique. Unlike dot peen, the scribing tip does not vibrate but slides along the surface, tracing a continuous homogeneous line.
Technifor has adapted this scribing technology to offer smooth and near silent direct part marking on metal and hollow parts. In 2003, the CN, Technifor first scribing marking head, was born! During the year, they kept the sturdy and reliable mechanics of the old machines and added new features such as a highly communicative control unit.
Today, the modern XF510r and the XCOM benefit from 30 years of expertise, making Gravotech the most technically advanced producer of scribing machines.