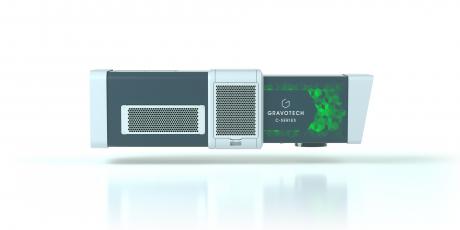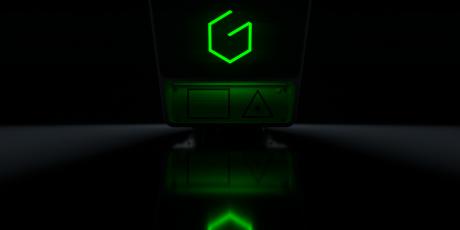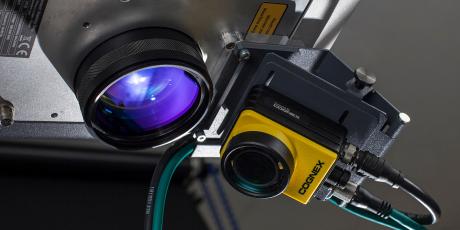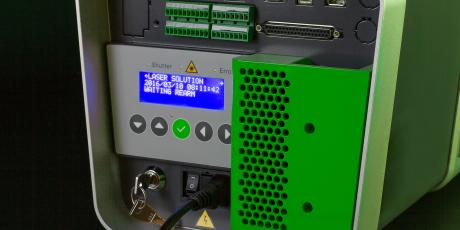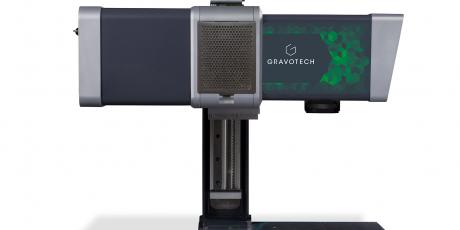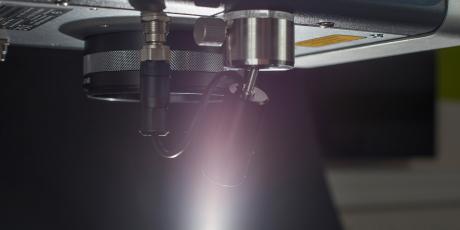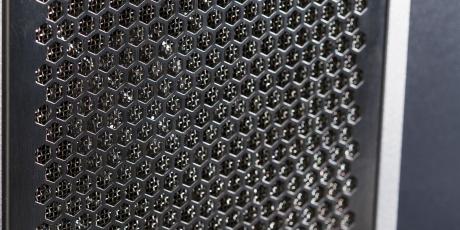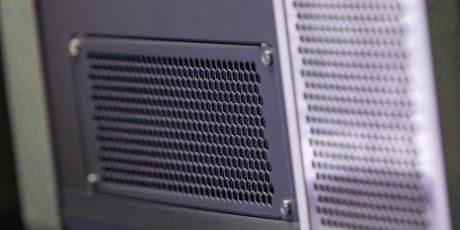 CO2 laser, High-speed laser marker for identification marking on organic materials and coated surfaces
INTEGRATED LASER MARKER
The CO2 laser marker is perfectly suited for organic materials permanent marking. Unlike conventional marking systems like inkjet or label, the laser operates without contact and does not require maintenance or consumables.
FROM THE NATURAL TO THE TRANSPARENT
Our powerful and versatile CO2 laser engravers use a 10600nm wavelength in the infrared range, which provides a precise and permanent marking on a wide range of materials such as natural materials (wood, leather, paper, fruits & vegetables), transparent material (glass, transparent plastics) and coated materials (painted surfaces, anodized aluminium).
 
ECO-FRIENDLY SOLUTION FOR IDENTIFICATION MARKING
Direct marking with CO2 laser engraver is a real alternative to stamping, inkjet or labelling in several fields. Our laser marker is more environmentally friendly as no ink is used and no waste is generated. The CO2 laser works without consumables, unlike the other alternatives, so there is no need to replace ink or stop the laser head for maintenance.
 
VISION MANAGER - ONE SOLUTION FOR MARKING & READING
With the efficient Vision Manager, identification of your parts is ensured. High-efficiency reading camera,
easy to install, grade analysis and sending status information to the PLC are some of the features the
module offers. Associated with an extremely high coding speed (up to 10,000 mm/s), the CO2 series is
designed to be integrated into high productivity lines.
Technical Specifications
Laser classification
The CO2 laser head is a class 4 Laser system. Possibility to switch in Class 1 for integration on a station or equipped with Mini inline module.

Monobloc design, easy integration
No sensitive cable connections in the laser marker integration.

Thanks to its integrated HMI display, it provides access to self-diagnostic, updates, history of faults, maintenance functions, and simplifies the implementation and visualization of tasks for the operator.

Highly communicative laser head
CO2 laser marker is compatible with a wide range of communication protocols: Ethernet TCP/IP, RS232, standard 8I/ 80, Dedicated I/O via DB-37 and optional industrial communication protocols like Profinet & Ethernet IP.

Marking possibilities
Permanent marking on organic materials, such as paper, cardboard, wood, leather, and engraving on transparent plastics.
Also Direct Markings on fruits and vegetables.

Durable laser system
Working temperature up to 40°C,
Built-in and reusable filter for air cooling,
Protection against scratches and deposits.
General
Wavelength
10600 nm
Available power version
30 W
Ideal for:
Permanent marking
Contactless direct marking
Identification marking
Key functions
Process automation
Industrial Ethernet Networks
Safety Performance Level e
Embedded intelligence
Autonomous
Programmable by PLC
No PC required
Traceability Management
CO2 LASER
Model
Laser Technology
Power
Power Peak
Frequency

CW laser (Continous Wave)

Scan speed

Up to 10000 mm/s (393.7 in/s)

Display

Integrated screen with control panel for: REAL-TIME SUPERVISION, EASY DIAGNOSIS, SOFTWARE UPDATES, MEMORY BACK-UP…

Operating Temperature
Marking Area - Available lenses

F100: 70 mm x 70 mm (2.8 in x 2.8 in)
F150: 100 mm x 100 mm (3.9 in x 3.9 in)
F200: 140 mm x 140 mm (5.5 in x 5.5 in)
F300: 210 mm x 210 mm (8.3 in x 8.3 in)

Safety performance level
Marking Specifications

+60 Gravotech fonts, Possible to convert User & TTF fonts, All formats of barcode and 2D codes, Logos

Communication interfaces (standard)

Ethernet TCP/IP; Terminal block 8I / 8O; Laser Safety Dedicated I/O; RS232; USB

Laser safety classification
Fieldbus
Power consumption rate
Humidity level
Rated voltage
Marking head weight
Marking head cable length
Marking head installation direction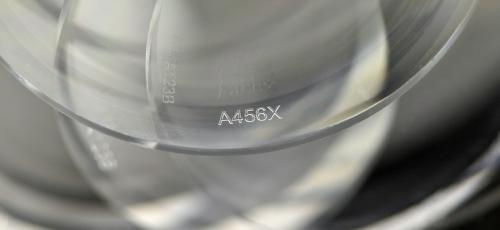 As a non-contact direct marking system, our CO2 laser engraver can safely engrave even on the thinnest glass and transparent plastic (PC & PET) without the risk of breaking the product. The glass is only marked on its surface and for transparent/translucent PET plastics, a white marking that seems to float on the surface is achieved.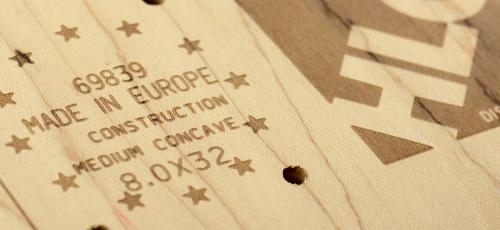 Operating without consumables, CO2 laser engraver directly marks the wood at the end of production, without deformation or alteration of the quality of the material. Laser marking of wood does not generate chips, but only smoke, gases and dust which can be easily and safely evacuated by an extraction system.
There are many marking possibilities on wood which can be obtained by adjusting the speed or the power of the CO2 laser. The marking colour can vary from very dark brown, different shades of brown or even white.
With high power, the high speed laser can easily dig into the wood and thus create engravings with on all types of wood: natural, MDF, varnished, cork, chipboard and precious woods.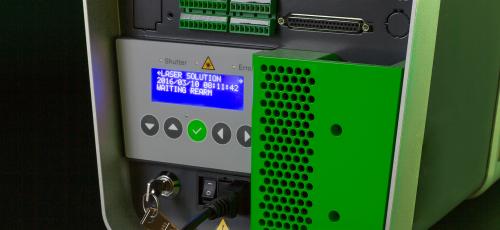 This CO2 laser marker can work independently in a production line and provide all the data required for your identification without a computer.
It can serialise your parts automatically, create a unique identification marking with sophisticated elements (multi-format time stamps, variables, counters, offset codes) and update the text and 1D/2D codes predefined in your templates.
The efficient onboard electronics can exchange and collect information from your PLCs and database in real-time, helping you to save time and boost your productivity.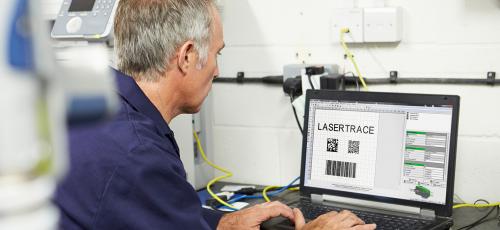 Lasertrace is specifically developed to create the marking files to be downloaded into the laser marker. It provides a template composition for adding text, a logo and all kinds of codes such as Datamatrix.
You can easily create your own marking templates with Lasertrace. You can define your marking process following precise rules: the actions (marking blocks) to be executed, the sequence of execution and the possibility to implement a wide range of transitions (output activations, camera blocks, variables, etc.).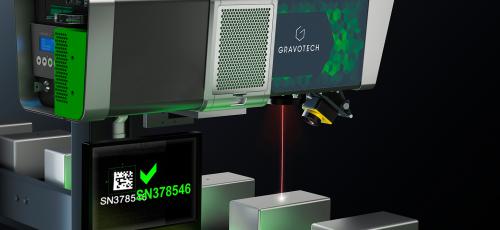 This optional Vision manager kit helps you to read codes and texts in the marking process, to guarantee that the direct marking has been performed correctly and to ensure 100% traceability of your production:
High efficiency: reading camera with lighting, auto-focus system and protective lens.
Easy to install: You are just a few clicks away from complete control of 1D/2D codes and your text (OCR fonts).
Grade analysis: control of code readability (Grade).
Quality check of the permanent marking: sending status information and history to the PLC, activating alarms, activating actuators to reject the faulty part.
This laser marker can handle more than 30 materials
CO2 GALVO
ORGANICS
Ceramic​​
Electrical and medical ceramic
Food​​
Glass, crystal
Leather
Paper​​, cardboard, cork
Rubber​​
Stone​, granite​, marble
Textiles​​
Wood​​, varnished wood
PLASTICS
ABS​​
Foam​​
Laminates​​
PA
PC
PE, BET
PMMA, Acrylic
POM - PBT
PP
METAL
Anodized Aluminum​​
Coated metal
= Engraving / Deep marking